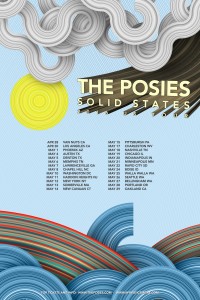 For their first US tour since 2010, The Posies are doing a series of pop up shows in secret locations across the country. None of these shows will be in clubs or bars, instead each will be in a unique alternative venue in the city listed. The actual address of the shows will be released only to ticket holders not more than 24 hours in advance of the show. Additionally, none of these venues hold more than 75 people (except Seattle), and some only 10, so be prepared for a very intimate experience with the band and note that ticket quantities are extremely limited for these shows!
This is a full band show with new drummer Frankie Siragusa. The new album will ONLY be available at the shows, with a bonus download. This is the only place to hear it! No streaming or downloads will be available until after the tour.
The 27 date tour launches on April 28th at a Secret Location in Van Nuys, CA for just ten lucky guests, and winds through the US for the rest of May, stopping in Austin, Memphis, NY, Nashville, Chicago, and Seattle among others, wrapping up in Oakland on May 29th.
THE POSIES "SOLID STATES" SECRET SHOWS
Venues revealed only to ticketholders.
April 28 — Rehearsal in Van Nuys CA [tickets]
April 29 — Los Angeles, CA [tickets]
April 30 — Los Angeles CA [tickets]
May 1 — Phoenix AZ [tickets]
May 4 — Austin TX [tickets]
May 5 — Denton TX [tickets]
May 6 — Memphis TN [tickets]
May 7 — Lawrenceville GA — [tickets must be reserved via Facebook]
May 8 — Chapel Hill NC [tickets]
May 10 — Washington DC [tickets]
May 11 — Philadelphia PA / South Jersey [tickets]
May 12 — New York NY [tickets]
May 13 — Boston / Somerville MA [tickets]
May 14 — New Canaan CT [tickets]
May 15 — Pittsburgh PA [tickets]
May 17– Charleston WV [tickets]
May 18 — Nashville TN [tickets]
May 19 — Chicago IL [tickets]
May 20 — Indianapolis IN [tickets]
May 21 — Minneapolis MN [tickets]
May 22 — Rapid City SD [tickets]
May 24 — Boise ID [tickets]
May 25 — Walla Walla WA [tickets]
May 26 — Seattle WA [tickets]
May 27 — Bellingham WA [tickets]
May 28 – Portland OR [tickets]
May 29 — Oakland CA [tickets]