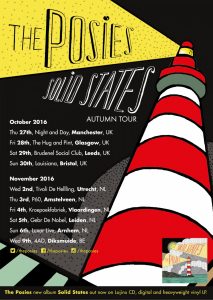 After a triumphant run of dates across Europe in March & April the newly revitalised trio-format band head back to Europe in October, following a 27-date run of secret shows in the US.
The band have always been exploring, growing and 2016 sees them continuing in that vein. None of US shows were in conventional music venues, with the location only revealed to ticket holders not more than 24 hours in advance of each show. The band are now touring as a trio, with no bass player, and Solid States collaborator Frankie Siragusa on drums. New album Solid States was not recorded in the usual band-in-a-room manner. Stringfellow and Auer sent song ideas back and forth online, writing and largely recording the album separately – but collaboratively – in their home studios.
The autumn tour starts in Manchester on 27th October, ending on 9th November in Diksmuide, Belgium. Solid States is out now Lojinx CD, digital and heavyweight vinyl LP.
The Posies "Solid States" Autumn Tour Dates
27 Oct @ Night and Day, Manchester, UK [tickets]
28 Oct @ The Hug and Pint, Glasgow, UK [tickets]
29 Oct @ Brudenel Social Club, Leeds, UK [tickets]
30 Oct @ Louisiana, Bristol, UK [tickets]
01 Nov @ Blue Shell, Cologne GERMANY [tickets]
02 Nov @ Tivoli De Hellling, Utrecht, NETHERLANDS [tickets]
03 Nov @ 60, Amstelveen, NETHERLANDS[tickets]
04 Nov @ Kroepoekfabriek, Vlaardingen, NETHERLANDS [tickets]
05 Nov @ Gebr De Nobel, Leiden, NETHERLANDS [tickets]
06 Nov @ Luxor Live, Arnhem, NETHERLANDS tickets]
09 Nov @ 4AD, Diksmuide, BELGIUM [tickets]
Tickets available from Friday 3rd June.