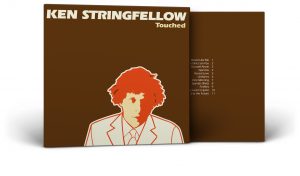 For the first time, Ken's 2001 solo album Touched is available on vinyl. More information from Azucar Records, who are releasing it:
Ken Stringfellow's (The Posies, Big Star, R.E.M.) classic 2001 solo album Touched is now available on limited edition orange cream vinyl. Just 500 copies of Stringfellow's stirring masterpiece have been pressed. Each track has been remastered for vinyl. From the somber opening notes of the first track, Down Like Me, to the album's hopeful closer, Here's to the Future, each song resonates with an emotional timelessness that only the greatest songwriters can deliver. Stringfellow's compositions on Touched burst with warmth and soul, making the LP one of the truly great albums of the past 20 years.
You can order the album now at Azucar's website.