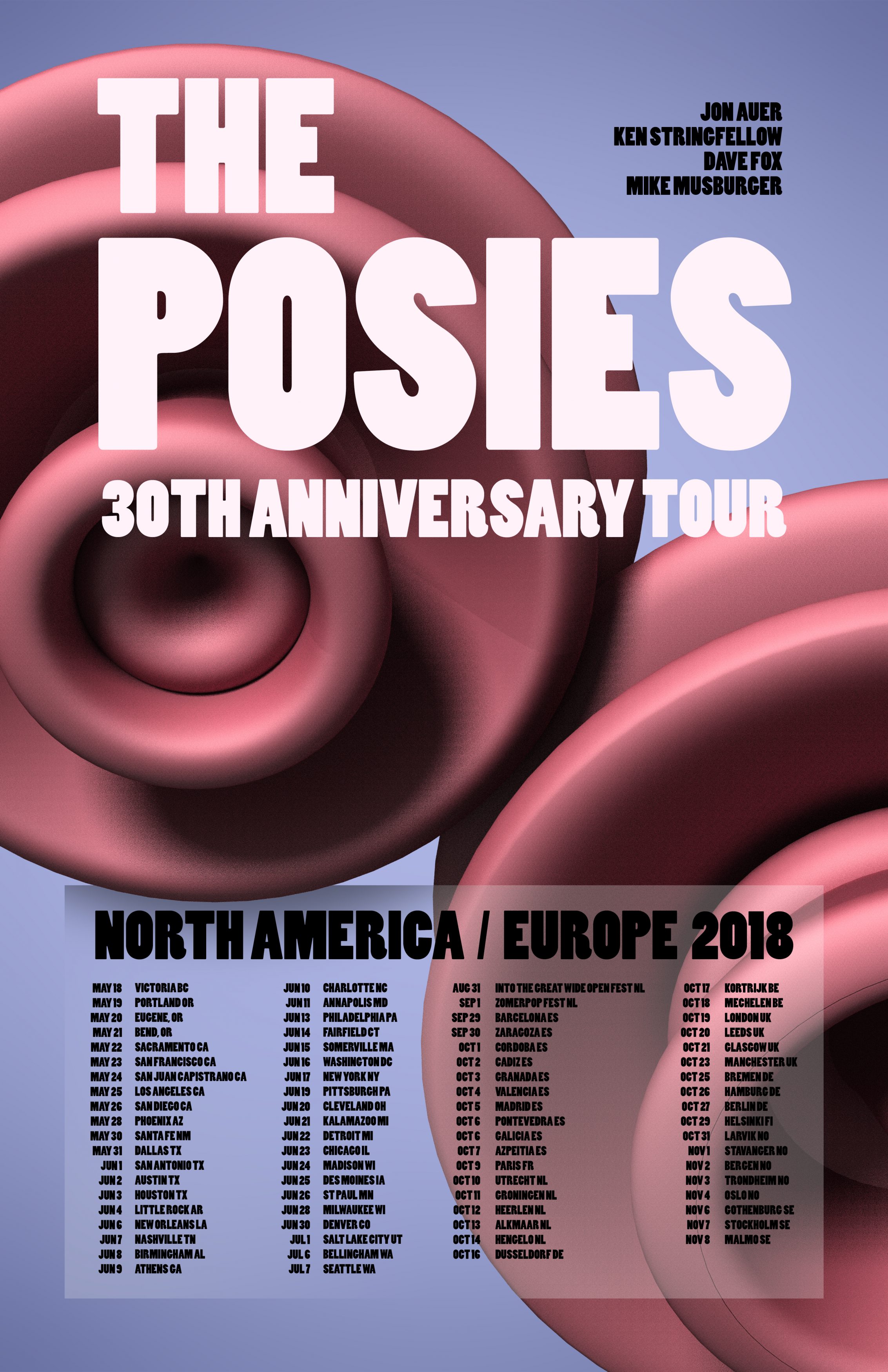 THE POSIES 30th ANNIVERSARY TOUR DATES
The Posies have announced their North American/Euopean tour in celebration of their 30th anniversary this year.
For ticket links, please visit the Tour page. Some shows are on sale now, but all shows will be on sale by March 30th, so check back later if the ticket link is not active yet.
North America: On sale March 30th
Fri., May 18 – Victoria, BC @ Capital Ballroom
Sat., May 19 – Portland, OR @ Doug Fir Lounge
Sun., May 20 – Eugene, OR @ WOW Hall
Mon., May 21 – Bend, OR @ Volcanic Theatre Pub
Tues., May 22 – Sacramento, CA @ Harlow's
Wed., May 23 – San Francisco, CA @ The Independent
Thurs., May 24 – San Juan Capistrano, CA @ Coach House
Fri., May 25 – Los Angeles, CA @ Bootleg Theater
Sat., May 26 – San Diego, CA @ Soda Bar
Mon., May 28 – Phoenix, AZ @ Valley Bar
Wed., May 30 – Santa Fe, NM @ Santa Fe Brewing Co.
Thurs., May 31 – Dallas, TX @ Club Dada
Fri., June 1 – San Antonio, TX @ Paper Tiger
Sat., June 2 – Austin, TX @ The Parish
Sun., June 3 – Houston, TX @ Bronze Peacock at House of Blues
Mon. June 4 – Little Rock, AR @ Capitol View Studios
Wed., June 6 – New Orleans, LA @ The Parish at House of Blues
Thurs., June 7 – Nashville, TN @ Mercy Lounge
Fri., June 8 – Birmingham, AL @ Saturn
Sat., June 9 – Athens, GA @ Georgia Theatre
Sun., June 10 – Charlotte, NC @ Neighborhood Theatre
Mon., June 11 – Annapolis, MD @ Ram's Head On Stage
Wed., June 13 – Philadelphia, PA @ World Cafe Live
Thurs., June 14 – Fairfield, CT @ Stage One at Fairfield Theatre
Fri., June 15 – Somerville, MA @ ONCE Somerville
Sat., June 16 – Washington, DC @ The Hamilton
Sun., June 17 – New York, NY @ The Bowery Ballroom
Tues., June 19 – Pittsburgh, PA @ Club Cafe
Wed., June 20 – Cleveland, OH @ Music Box Supper Club
Thurs., June 21 – Kalamazoo, MI @ Bell's Eccentric Cafe
Fri., June 22 – Detroit, MI @ The Magic Bag
Sat., June 23 – Chicago, IL @ Park West
Sun., June 24 – Madison, WI @ High Noon Saloon
Mon., June 25 – Des Moines, IA @ Vaudeville Mews
Tues., June 26 – St. Paul, MN @ Turf Club
Thurs., June 28 – Milwaukee, WI
Sat., June 30 – Denver, CO @ Levitt Pavilion
Sun., July 1 – Salt Lake City, UT @ The State Room
Fri., July 6 – Bellingham, WA @ Wild Buffalo
Sat., July 7 – Seattle, WA @ Neptune Theatre
Europe: ON SALE NOW! (Except Norway)
Fri., Aug. 31 – Vlieland, NETHERLANDS @ Into the Great Wide Open Festival (sold out)
Sat., Sept. 1 – Hoogwoud, NETHERLANDS @ Zomerpop Festival
Sun., Sept. 2 – Wiltshire, UK @ End of the Road Festival
Sat., Sept. 29 – Barcelona, SPAIN @ Upload
Sun., Sept. 30 – Zaragoza, SPAIN @ La Lata de Bombillas
Mon., Oct. 1 – Cordoba, SPAIN @ Hangar Cordoba
Tues., Oct. 2 – Cadiz SPAIN @ Aulario de la Bomba,
Wed., Oct. 3 – Granada, SPAIN @ Lemon Rock
Thurs., Oct. 4 – Valencia, SPAIN @ 16 Toneladas
Fri., Oct. 5 – Madrid, SPAIN @ Sala Caracol
Sat., Oct. 6 – Pontevedra, SPAIN @ Teatro Principal
Sun., Oct. 7 – Azpeitia, SPAIN @ San Augustin Kulturgunea
Tues., Oct. 9 – Paris, FRANCE @ La Maroquinerie
Wed., Oct. 10 – Utrecht, NETHERLANDS @ Tivoli
Thurs., Oct. 11 – Groningen, NETHERLANDS @ Vera
Fri., Oct. 12 – Heerlen, NETHERLANDS @ Poppodium Nieuwe Nor
Sat., Oct. 13 – Alkmaar, NETHERLANDS @ Podium Victorie
Sun., Oct. 14 – Hengelo, NETHERLANDS @ Metropol
Tues., Oct. 16 – Düsseldorf, GERMANY @ Zakk
Wed., Oct. 17 – Kortrijk, BELGIUM @ Wilde Westen
Thurs., Oct. 18 – Mechelen, BELGIUM @ Cultuurcentrum Mechelen
Fri., Oct. 19 – London, UK @ The Garage
Sat., Oct. 20 – Leeds, UK @ Brudenell Social Club
Sun., Oct. 21 – Glasgow, UK @ King Tut's Wah Wah Hut
Tues., Oct. 23 – Manchester, UK @ The Deaf Institute
Thurs., Oct. 25 – Bremen, GERMANY @ Tower
Fri., Oct. 26 – Hamburg, GERMANY @ Häkken
Sat., Oct. 27 – Berlin, GERMANY @ Berghain Kantine
Mon., Oct. 29 – Helsinki, FINLAND @ Savoy Theatre
Wed., Oct. 31 – Larvik, NORWAY @ Sanden Kafe at Kulturhuset Bølgen
Thurs., Nov. 1 – Stavanger, NORWAY @ Folken
Fri., Nov. 2 – Bergen, NORWAY @ Madam Felle
Sat., Nov. 3 – Trondheim, NORWAY @ Teaterhuset Avant Garden
Sun., Nov. 4 – Oslo, NORWAY @ John Dee
Tues., Nov. 6 – Gothenburg, SWEDEN @ Pustervik
Wed., Nov. 7 – Stockholm, SWEDEN @ Fasching
Thurs., Nov. 8 – Malmö, SWEDEN @ Inkonst