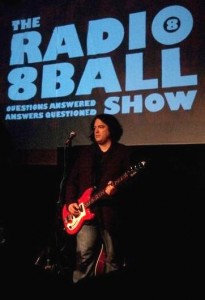 Fresh off the Bumbershoot Music & Arts Festival with Radio8Ball, Jon will appear in the NYC area three times:
9.15 THE BELL HOUSE , Brooklyn, NY (w/ Fountains of Wayne)
9.16 LE POISSON ROUGE , New York, NY (w/ John Wesley Harding, John Roderick, Eugene Mirman, Steven Page & more)
9.17 THE LIVING ROOM, New York, NY (Long set)
More info here.
Scott Miller of The Loud Family and Game Theory has some nice things to say about Jon, "Conversations" and "Lady Sweet" here:
Jon Auer didn't take a day off from crafting great music in the mid-2000s; his break-out Big Star moment (read on) only barely surpasses this Posies return to form, whose unhurried stroll up perilous baroque scales and back to meaty rock are an immense favorite of everyone in my household. I must have listened to this song a hundred times by now and it never gets old.